General Dentistry
Viviane Haber
Cosmetic Dentistry
Glendora dentist Dr. Viviane Haber, DDS, understands that cosmetic dentistry isn't just about giving someone a beautiful new smile. What's important are the benefits that come when you don't have to hide behind closed lips. Having crooked, stained, broken, or worn teeth can make even the most self-assured person sink into depression, feel anxious, or lose confidence.
As a leading Glendora dentist with over three decades of experience in the art of cosmetic dentistry, Dr. Haber is a smile maker with an eye for symmetry. She knows how to blend in subtle nuances that make each transformed smile unique and full of personality. The Glendora dentist utilizes both tried and true techniques as well as innovative dental procedures to leave each patient with pearly whites that are as gorgeous on the outside as they are functional on the inside.
Dr. Haber's Glendora dentist office specializes in correcting overcrowding, missing, malformed, and gapped teeth. Dr. Viviane Haber, DDS, employs the most advanced cosmetic dental techniques including veneers, bonding, implants, and orthodontics to put the spark back into each patient's smile.
Ongoing Care
Dr. Haber believes that the perfect smile starts with healthy teeth. She recommends a biannual maintenance schedule for preventative care following any cosmetic procedure. These exams help the Glendora dentist spot and correct potential issues with her patients' newly minted smiles.
Don't let an uninviting smile stand in the way of a happy life. Call Glendora dentist Dr. Viviane Haber, DDS, today for a mouthful of fantastic!
Related Cosmetic Dentistry Articles
Cosmetic Dentistry – A Time For Change
Join us as we review the myriad of possibilities available to you for cosmetic dental change. But the biggest part is not just how your smile looks, it's how you feel when you show it... Read Article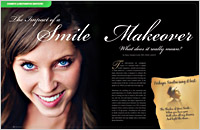 The Impact of a Smile Makeover
Americans are catching on to the emotional and social importance of a healthy, beautiful smile, and they're seeking out ways to improve their smiles. Learn why and what a change could mean for you... Read Article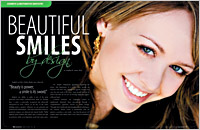 Beautiful Smiles by Design
The first in a series of articles dedicated to the "art and science" of designing a more appealing smile. One of the country's foremost leaders in cosmetic dentistry discusses how you and your dentist partner to create a great new look... Read Article
How And Why Teeth Wear
Are teeth supposed to last for a lifetime? And are humans designed to live for up to a hundred years? Given all the current improvements in the areas of medicine and health, both general and oral, people are not only living longer, but they are also keeping their teeth longer. This article will provide an overview of the "oral system" and one of its more common and important occurrences, tooth wear... Read Article