General Dentistry
Viviane Haber
General Dentistry
Glendora dentist Dr. Viviane Haber, DDS, understands that a bright, healthy smile starts with proper preventative maintenance. Twice per year, Dr. Haber recommends routine dental exams to look for damage and decay. The experienced general and cosmetic dentist inspects each tooth to help prevent potentially painful, embarrassing, and costly issues later on. Services available at Haber Dental Center include X-rays, cleanings, dental sealants, fillings, crowns, and tartar removal.
Patient Education
As a leading Glendora dentist, Dr. Haber believes that a well-informed patient is best equipped to care for his or her teeth at home. She offers in depth consultations and is always willing to answer questions and carefully explain personal dental care and procedures step-by-step. The Glendora dentist also offers an expansive library of dental topics free for patients and the general public. View Article Library
Tooth Care
Glendora dentist Dr. Viviane Haber, DDS, says tooth care takes only minutes a day. She recommends brushing in the morning and at night, flossing daily, rinsing with an ADA-approved antiseptic mouthwash, and avoiding excess sugar, fruit juice, and sticky foods.
A Visit with Glendora dentist Dr. Viviane Haber, DDS
A typical appointment at Haber Dental Centers begins when you are greeted by our friendly front office and knowledgeable staff. Your visit will likely include a cleaning by a licensed dental hygienist. Our dental professional will note any new changes before calling in Glendora dentist Dr. Viviane Haber, DDS, for a full inspection. Teeth are checked for decay, cracking, or dark spots, indicating possible damage below the surface. If no issues are found, Dr. Haber recommends a return visit in six months. If issues are noted, the Glendora dentist draws up a custom treatment plan, which may be completed in a single follow-up visit or broken up into several appointments, depending on the severity of the problem.
Related General Dentistry Articles
The Natural Beauty of Tooth Colored Fillings
The public's demand for aesthetic tooth colored (metal free) restorations (fillings) together with the dental profession's desire to preserve as much natural tooth structure as possible, has led to the development of special "adhesive" tooth colored restorations... Read Article
What is Tooth Decay? – And How to Prevent It!
Tooth Decay is an infection, and many people don't realize that it is preventable. This article is the first in a series about tooth decay, perhaps the number one reason children and adults lose teeth during their lifetime. Explore the causes of tooth decay, its prevention and the relationship to bacteria, sugars and acids... Read Article
Tooth Decay – How To Assess Your Risk
Don't wait for cavities to occur and then have them fixed — stop them before they start. Modern dentistry is moving towards an approach to managing tooth decay that is evidence-based — on years of accumulated, systematic, and valid scientific research. This article discusses what you need to know to assess your risk and change the conditions that lead to decay... Read Article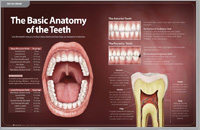 Basic Anatomy of Teeth
Adults have 32 teeth. This includes the wisdom teeth which are simply a third set of molars. It is possible to be born with less than 32 teeth or more than 32 teeth. If a person has had all four of their wisdom teeth removed, they will have 28 teeth...Read Article